As an Amazon Associate I earn from qualifying purchases.
In this 3 part tutorial I'll first answer the question: "WordPress pages vs posts, what is the difference?" Then I'll go on to show you how to make your first WordPress page in part 2. And finally, in part 3 I'll show you how to make your first WordPress post.
Many new users ask what is the difference between a post and a page, and some, unfortunately do not. This is something you really do need to get right, especially if you plan on building a site with a lot of content.
What Are WordPress Pages Used For?
Before I answer that question, let me tell you a little bit about how pages actually work within WordPress so you can get a better idea of where exactly links to your pages will show up on your WordPress site.
You will normally see your pages listed in your sidebar, similar to what you see in Figure 1 but you can play around with things as I have and put them in the footer. Note the bottom of this page has a section headed 'information', these are the pages I have created on this site up until now.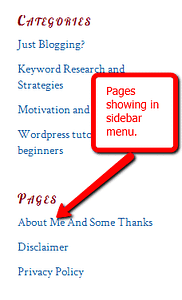 On top of this you can also see in Figure 2 that my pages were also at one time in the navigation above my sites header. (I have changed it to show categories since then however.)  A lot of different themes will show any pages that you create in this general area automatically. If you click on one of these navigation links (or the sidebar links) you will be taken to the page so that you can read more on the particular subject in question.
Now you know where pages usually show up after you publish them, you might be starting to get an idea of what type of thing they are generally used for. As you can see, my pages include 'about me', 'disclaimer' and 'privacy policy' to date.

So you would generally treat pages as content for users to find out more about you, your company, your site and any legal stuff that needs to be given to visitors to protect both them and yourself. Other examples of uses for pages might be:
Terms and Conditions
Resources Page
Contact Page
Websites of Interest
Glossary
Index
It all depends upon the theme of your site and your preference. Nothing is really set in stone. (Except maybe the legal stuff!)
In most cases you do not want to start publishing articles on your chosen subject(s) as pages, one of the technical reasons for this is that if you are unfamiliar with tweaking WordPress you will likely end up with a mess in your header navigation area. That or lots of navigation links that you do not really want there.
What Are WordPress Posts Used For?
Posts are used to build the actual meat of your website, they will make up the vast majority of the content on your site and will be written around your chosen subject(s). What you are reading now is a post for example, it's the more interesting stuff on your site that people will want to read.
I guess an easier way to explain the difference between posts and pages is just to say that pages are the boring crap that nobody ever really takes any notice of on a website, while the posts are the real reason you often end up landing on said site in the first place.
Another good reason to write your main articles which are designed for the consumption of visitors as 'posts' is the fact that you can place each post into a 'category'. (more on that in a later 'post') When you have several different threads of information running on one site it is a good idea to place each type of post into a category in this way as it is easier for your visitors to navigate their way around your site.
As an example, at time of writing I have 4 different categories
Just Blogging
Keyword Research and Strategies
Motivation and Inspiration
WordPress Tutorials for Beginners
Again, you can see the categories down in the footer of this page. Perhaps I will have added more categories by the time you read this?
The post you are currently reading is in the 'WordPress Tutorials for Beginners' category but, it could be placed in more than one if need be.
So, hopefully I have answered your question here with regards to the usage of WordPress posts vs Pages which to choose will be far clearer when you are about to publish content of some sort on your own site.
Lets move on to part 2: How to use WordPress pages.
Amazon and the Amazon logo are trademarks of Amazon.com, Inc, or its affiliates.