As an Amazon Associate I earn from qualifying purchases.
Welcome to the 2nd edition of author interviews, this time we have 20 questions with somebody who likely needs no introduction for many of you.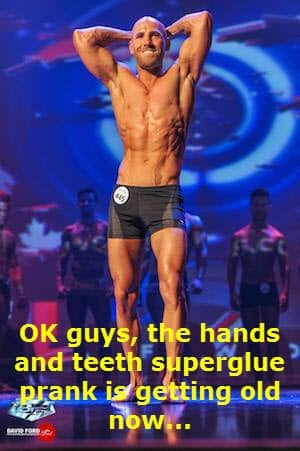 This is the man who's is responsible for putting together the Kindle Money Mastery course, and more recently he's released a new course on how to write a book in less than 24 hours.
Stefan Pylarinos is the man in question of course, but you'll find there is a lot more to this guy than just making ludicrous sums of money online. Stefan has a whole ritual surrounding his own personal improvement which he generously shares at his blog "Project Life Mastery."
On top of this, Stefan also somehow finds time to do enough physical training to be able to compete at the WBFF, (World Beauty Fitness & Fashion) and coach others in how to better their lives!
You can get a small insight into Stefan's routines (not to mention how far Stefan has come) from the video below.
Anyway, enough crap from me… here's the guy your all interested in…
Stefan Pylarinos Interview
Who has been the biggest influence on you with regards to self-publishing

I've never had a mentor or someone that was an influence for me in the self-publishing world, but more so in the "online marketing" world. When it comes to Kindle publishing, I applied everything that I knew and learned from my internet marketing experience and knowledge. When it comes to internet marketing, I'd say that Frank Kern has been one of my biggest influences.

What is the single most important tip you would give to anybody thinking of self-publishing?


To ensure that there is a market, need or demand for whatever it is that you want to publish. Make sure you do all the proper research BEFORE going through the process of writing or publishing your own book. This will guarantee that it's a success and the marketing will become effortless.

If you could go back in time and speak to yourself shortly before publishing your first book, what would you tell yourself to do differently?

I would tell myself to NOT be a perfectionist. I spent too much time worrying and trying to make sure everything was perfect, which delayed the entire process and prevented me from completing my book. I have the opposite mentality now – I take "imperfect action" and focus less on trying to make everything perfect for myself, but rather focus on making my books serve and add value to others.

What is the biggest mistake you have made on your self-publishing journey?

Early on in my journey, I published some books without doing the proper research to see if the niche or market was profitable. Now I always do my research and select the right niche, keyword and titles for my books to ensure they are a success. But if it wasn't for those mistakes, I wouldn't have learned – so I am grateful for them.

Are there any tools you use to help with book publishing that you would recommend to others, or are they the work of Satan?

I use some softwares that are available, such as AK Elite, KD Spy, Kindle Samurai, etc… but they aren't necessary and I am capable of doing all of my publishing without them.

Any book's cover is of course important, this we all know. What recommendations do you make with regards to creating, or outsourcing cover creation?

Make sure that the cover stands out from the other covers in your niche. It has to grab peoples attention and make them say, "I want that!" Make sure that the title is visible and easily readable.

How should you approach writing your book's description, and why?

Make sure that your description has all of the benefits and features of the book. If possible, share testimonials or some of the reviews you have of the book in the description. I'd also make sure that it is written well, is compelling, and really sells the book. The description HAS to be good, as it's a reflection of the quality of the book.

What other areas of your authors central account should you concentrate on and why?

Your biography is important, as well as your picture. Making sure that your write-up about yourself is high quality and shares your story. People want to connect with the author – so that's why the more personal and open you can be, the better.

Do you have any tips to share with us about pricing books?

The best price is whatever you can sell your book at with the highest conversion rate. It's different for every book and every niche. For example, some books can actually make MORE by selling them at $0.99 (even though they get less of a royalty). Others can sell their book at $2.99 and have it convert the highest at that price point, while others at $3.99 or $4.99. It depends on your niche, the competition, your reviews, the length of your book, etc… The best advice is to TEST the pricing.

For you, is self-publishing the easiest way to make money online at the moment, or is there something easier?


It's the easiest way that I know of. I make money online using several different strategies, from blogging, product creation, affiliate marketing, consulting, etc… and I've found Kindle publishing to be the easiest and fastest way to make money online today.

What was the first book you ever published, and was it a success?

The first book I ever published was on dating and meeting women. It took me over a year to write and I was a "perfectionist" with it. It wasn't that much of a success unfortunately, because I didn't do the proper research beforehand to optimize the book the right way and the title I had for it sucked.

How can people get started building income on the back end of Kindle books?

Give something away to your customers that buy your book as a bonus. It can be a bonus free report, audio, or video. Make sure that you're providing another BENEFIT that they are looking for with the bonus, then offer it within the book. With the bonus, you'll direct your customers to click a link in your book to go to a squeeze page/landing page, where they will have to enter their e-mail address to get the bonus. By doing this, you are building an e-mail list of all your customers. With this e-mail list, you are now able to build a relationship with them, provide more value, and sell them more stuff (either as an affiliate or your own products.)

Affiliate links inside Kindle books, yes or no? Why do you take that stance?

They aren't allowed inside Kindle books, so no. The better (and more safer) way is to focus on building a list, then building a relationship and then promoting things as an affiliate. Or to create a "resource page" on a website that you link people to within your Kindle book, then you can put your affiliate links on there. However, there are some people I know that still do affiliate links within their books and haven't had any issues with Amazon – so you can do it, but it's at your own risk.

Are there any "myths" or misconceptions about self-publishing (Kindle or in general) which you can dispel


That Kindle is saturated, which whenever I hear that, makes me laugh. While more and more books get published daily on Kindle, so do more and more customers become attracted to Amazon and purchase Kindle books. Amazon is only growing and growing. While some niches can become more competitive, I never get discouraged by saturation or competition because I have the mindset that I can compete with anyone. Confidence is the most important skill as a marketer as it allows you to enter into niches or markets and dominate your competition. I love competition, as it validates to me that there is a market for something, and I always believe that I can do a better job than anyone else in that niche.

How realistic do you think it is for the average author to make a full-time living on Kindle?

Very realistic. I have dozens of clients and customers of my program that are making 5-figure and 6-figure incomes every year from Kindle. And they created their income in a short period of time (a matter of months.)

What are your minimum criteria for you to consider one of your books "successful?" (A certain amount of units sold per month? A certain amount of revenue per month? Well received and reviewed by the public?)

Any of my books are a success if a) it makes a return on my investment and continues to make me ANY type of profit each month, and b) it positively helps others and the majority of people are better off for having consumed it.

How long did it take to get a big break, and what was the tipping point for you? Advertising? Someone of influence recommending? Or did you just go from "shit" to "hit" over night?

I had success with Kindle publishing immediately, which is what made me jump in with two feet. I published a few e-books that I was already selling online and they immediately started making me money. From there, it was me seeing the opportunity and taking advantage of it that created my "big break" with it.

How soon after seeing a book published do you expect it to start a regular sales pattern? (If you see patterns?)

After the first month of publishing your book and selling it (with reviews and ranking it), can you start to predict and see how much it will consistently make you.

Would you like to tell us about your latest projects and/or new releases?

I'm currently working on launching a website that will help publishers get Amazon reviews for their books. It's been created, but is currently in beta-testing mode and I'm hoping to launch it within the next few months. I'm also constantly working on and developing my course, Kindle Money Mastery, as well as my Full Disclosure members area. Every month, I'm interviewing Kindle publishers, learning more, applying more, and sharing my most advanced strategies in the Full Disclosure area of my program.

Is there anything I haven't asked about, that you think aspiring authors should know?


Understand that 80% of success in anything is your PSYCHOLOGY, while only 20% is the mechanics. I learned this from Tony Robbins and it's completely true. The differences I've seen between those that are successful with publishing (or anything), has NOT been the strategy, it has been their mindset – their confidence, certainty, determination, consistency, and perseverance.

Well, that's just about all folks!

before I finish up, I'd like to leave you with this video which I found very insightful… even beautiful in some ways! *Cough* I mean that in a masculine, big slap on the back "fancy a beer mate?" kinda way. :-s

Hope you enjoyed that video guys!

Finally I'd like to throw a HUGE thank you to Stefan Pyralinos for taking time out of his busy schedule to give us all some insight into how he approaches Kindle publishing, and other related aspects of his business in the process. I'd also like to ask him to get an easier to type/spell/pronounce name, "Pyralinos" made life bloody hard! 😉

I hope you have all picked up as much gold from this interview as I have, thank you again Stefan!

Connect with Stefan Pylarinos

Twitter
Facebook
Author page at Amazon.com
ProjectLifeMastery.com
Kindle Money Mastery Course
how to write a book in less than 24 hours

Amazon and the Amazon logo are trademarks of Amazon.com, Inc, or its affiliates.