As an Amazon Associate I earn from qualifying purchases.
If you are new to Kindle publishing then Amazon Kindle keywords might be a little confusing for you to start off with, if that is the case then this article will hopefully help you get to grips with why you should be using them and where.
I have been doing research for a new book teaching authors how to use both Amazon Kindle book categories and keywords for their books to give maximum 'discoverability' and while looking for supporting evidence that the research method I use works I came across the video which is coming up shortly. Although my new book targets nonfiction authors the concept can work for fiction titles also although it is a bit more difficult to use in some respects.
In the video you will hear about how author Mark Edwards utilized this tactic to help boost sales for his book 'Killing Cupid'. If you are pushed for time you can jump to the 11:55 point to get the juicy details on exactly what Mark did.
Original source of video:
The Creative Penn
Tips to take note of:
The cover is very important and has to look good as a thumbnail.
The blurb (description) is also very important, rewriting his description resulted in sales doubling overnight. (But were the keyword phrase updates included at the same time as the blurb update?)
Mark used the keyword 'psychological thriller' in his subtitle.
The book is good. (Yeah, a no brainer but this is a big one!)
Mark obviously knew how to use Amazon Kindle keywords!
as we hear in the video he is a marketing marketing guy so it is of course a no brainer for him to use his knowledge to gain an advantage. How much of an advantage using this single keyword gave him is unclear as we have no idea of the timeline or order in which he carried out the things he mentioned but it is safe to say that it definitely didn't do him any harm.
How Do We Know Kindle Search Keywords Such as 'Psychological Thriller' are Valuable?
Take a look at the image below.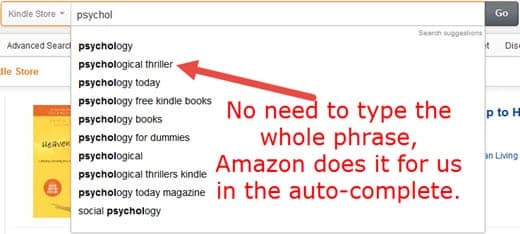 As you can see, when I started typing out the phrase 'psychol… Hang on! I don't have to type it all, it's right there in the Amazon auto-complete, all I need to do is click it.
Why do certain terms show up while others do not? It is down to what people regularly search for on Amazon Kindle. If it appears in the auto-complete you know that it is a pretty popular search which brings us to the question…
How do We Use Our Newly Found Keywords for Kindle Books?
Quite simply, the 2 best ways to take advantage of these keywords is to utilize them:
Within our titles as Mark spoke about in the example in the video above.
In the 7 optional search keywords field when you are on your book upload page.
Some people will also tell you to include Amazon Kindle keywords in your books description, is this correct? Yes and no is the cryptic answer I'm going to give at this time. The description does help but in my opinion not in the way that many gurus tout the benefits, that's a subject for another day however.
Finally, what many people are not aware of is that where in your titles you have your keywords is a factor, the sooner they appear, the more power they have. Keywords within the titles are also more powerful than including them in the 7 keywords you use when you upload, all things being equal a book with the keywords in the title will show up higher in Amazons search results than a book that has only used it in the 7 upload keywords.
Hopefully this has helped you to get a better understanding of why keywords for Kindle eBooks are so important, if you have any questions or comments please shoot in the comments section below.
Amazon and the Amazon logo are trademarks of Amazon.com, Inc, or its affiliates.